The Frost Solutions Snow Depth Sensor give snow removal professionals low-cost, remote snow depth measurements.
Pre-order now for Winter 2023.
Highlights of the Snow Depth Sensor
Laser sensor technology measures depth of precipitation to 0.1" accuracy
Trigger alerts based on current snow depth (in addition to forecasted precip alerts from your Mini-RWIS)
Works seamlessly with the Frost Solutions Mini-RWIS system, but can operate independently
Long-lasting battery and Bluetooth connectivity allow for installation anywhere, no infrastructure needed
No longer rely on zip code-level precipitation approximations; get paid for what you plow!
Outside of winter, the Snow Depth Sensor also works great for detecting and monitoring flooded roads
Designed for:
Snow removal professionals to check and document depth from anywhere– no ruler required
Commercial snow removal contracts with minimum plowing thresholds or pay-by-depth clauses
Municipalities with plowing thresholds for roads and sidewalks and flood prone areas
1. Install
Attaches to any pole without additional hardware, wifi, or batteries needed.
2. Connect
The Snow Depth Sensor connects to your nearby Mini-RWIS device via Bluetooth, or can sync with a mobile app, allowing the snow depth to update in your platform without a Mini-RWIS. Alerts can be set up when paired with the Frost Solutions Mini-RWIS.
3. View
View current and historical Snow Depth measurements down to 0.1" measurements.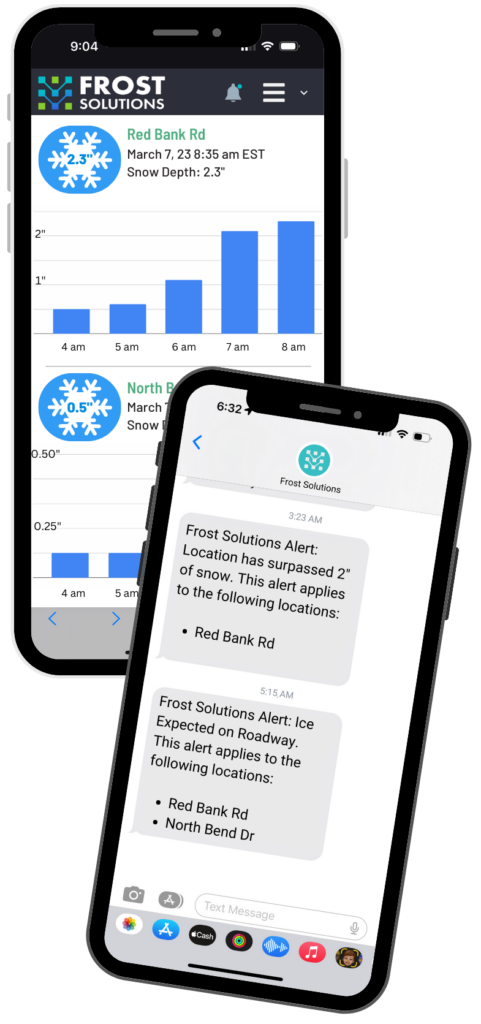 Pre-Order a Snow Depth Sensor.
Snow Depth Sensors can be purchased with or without an existing Mini Weather Station. Fill out the form for questions and to be the first to know when Snow Depth Sensors are ready to ship.